Good news for the mangrove ! This Wednesday, December 19, 240 red mangrove trees raised in nurseries were planted in a natural environment in order to rehabilitate a mangrove area in Bergevin. An operation that symbolizes the entry into a new phase of the Cáyoli project, that of the first active restoration operations of natural coastal environments.
ESTABLISHMENT OF NEW MANGROVE NURSERIES
Mangroves and swamp forests are an essential element of resilience to climatic hazards. They mitigate the risks of flooding and coastal erosion. These wetlands represent a major challenge for the protection of our ecosystems
One of the major components of the Cáyoli program is the implementation of active restoration protocols for natural environments, based on local and regional expertise. The protocol for harvesting, cultivating and planting on degraded sites is stabilized and functioning. This has made it possible to take an essential additional step: entrusting the management of a nursery to a local association as part of an integration project.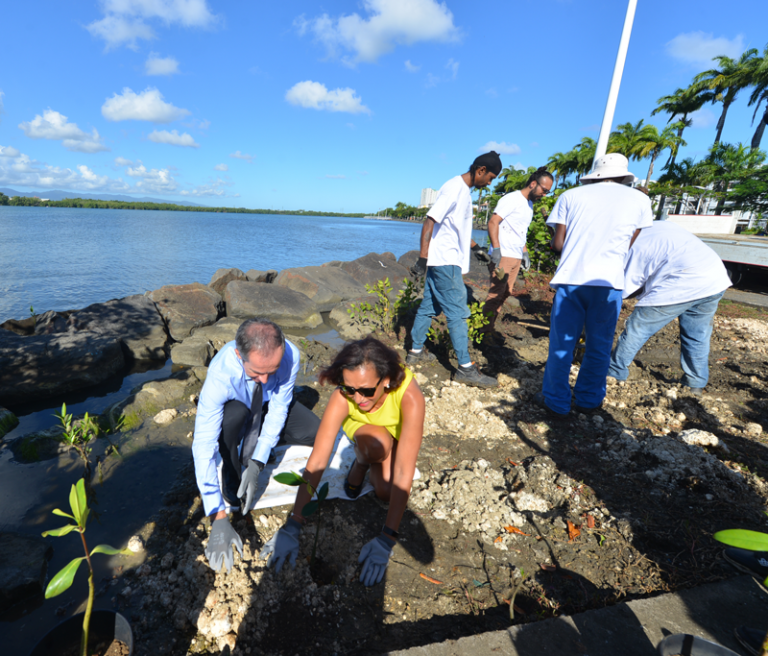 The President of the Supervisory Board, Mrs. Marie-Luce PENCHARD, and the President of the Executive Board, Mr. Yves SALAÜN, and the teams of the «Yon A Lòt» association's integration project planted the first mangrove tree seedlings.
« YON A LÒT » – ONE TO THE OTHER, A SOLIDARITY ASSOCIATION COMMITTED TO THE ENVIRONMENT
This project is implemented by the association « YON A LÒT » – One to the other. Created in 2014, it has made coastal management and raising awareness of the preservation of natural areas its main focus. After creating a training course for coastal workers to develop skills adapted to local issues, the association has committed itself alongside Guadeloupe Port Caraïbes to set up a mangrove nursery by employing employees in integration.
See the video of the operation
Photo credit: : FaireSens